Eastbound and Down! RIDE LI 22!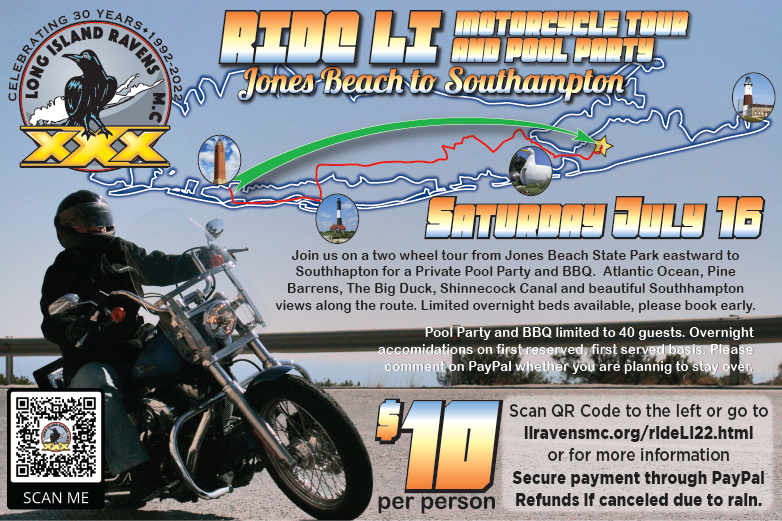 SAT. JULY 16, 2022
11:00 AM - BIKES START RIDE FROM JONES BEACH STATE PARK
3:00PM - POOL PARTY AND BBQ BEGINS SOUTHAMPTON
GET YOUR BIKES READY FOR A SCENIC TOUR ALONG LONG ISLAND'S SOUTH SHORE
AND FINISHING AT PRIVATE RESIDENCE IN SOUTHAMPTON FOR A PRIVATE LEATHER POOL PARTY.

NOT A BIKER, JOINS US AT THE END AND WELCOME THE RIDERS AS THEY ARRIVE!
ROUTE: STARTS AT JONES BEACH, TRAVELS EAST ALONG OCEAN PARKWAY TO ROBERT MOSES CAUSEWAY, UP TO SUNRISE HWY. SUNRISE HWY EAST TO BROOKHAVE FOR A RIDE ALONG SOUTH HAVEN PARK (NOT QUITE THE DRAGON, BUT GREAT TWISTY ROAD). THEN HOP UP TO MANORVILLE FOR REST STOP AT THE MAPLES BAR (GREAT BIKER ATTRACTION ON WEEKENDS). FROM THERE HEAD EAST ON MILL ROAD (MORE FUN TURNS) TO RT 24 THEN THROUGH RIVERHEAD OUT TO THE FLANDERS BIG DUCK. FINAL LEG EAST AS WE CROSS THE SHINNECOCK CANAL BACK ONTO SUNRISE PASSING THROUGH PINE BARRENS AND HEAD TO SOUTHAMPTON.
Tickets: $10 per person.
THERE IS LIMITED OVERNIGHT SPACE AVAILABLE INCLUDED!
FOR THOSE (BIKERS FIRST) THAT CHOOSE TO STAY OVER,
BED SPACE IS AVAILABLE. YOU MUST RSVP TO RESERVE SPOT.
BREAKFAST WILL BE PROVIDED AND OPTIONAL QUICK RIDE TO MONTAK LIGHTHOUSE IS POSSIBILITY SUNDAY MORNING.

PLEASE CLICK BELOW BUTTON TO PROCESS PAYMENT ON PAYPAL!